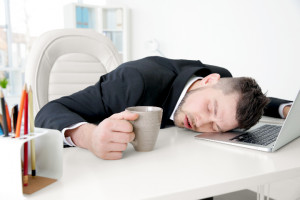 It is normal for you to feel tired throughout the day from time to time due to a poor night's rest or the commitments of your daily life. However, if it is more than an occasional event, the continuous lack adequate rest can eventually lead to sleep deprivation. This not only decreases your quality of life, but also has a significant impact on your health as well. If you spend the night tossing and turning or wake up feeling tired every day, it could be due to an underlying sleep disorder. To protect your well-being, you may need sleep apnea therapy in Highland Park.

Complications from Sleep Deprivation
It is recommended that adults receive at least 8 hours of sleep per night to stay well-rested. Unfortunately, many do not get enough sleep. In some cases, it can be due to an underlying complication, like a sleep disorder. When the amount of rest you receive is reduced for a prolonged period, sleep deprivation can set in.
This can lead to excessive daytime sleepiness, moodiness, increased hunger, and a heightened risk for workplace and auto accidents. Not to mention it can negatively impact your health as well, leading to several complications, such as:
Diabetes: Those who sleep less than 8 hours per day have an increased risk for Type 2 Diabetes because their ability to process glucose becomes compromised.
Healing Complications: Wound-healing capabilities decline when deprived of REM sleep.
Brain: Cognitive abilities and learning capabilities are reduced with sleep deprivation.
Growth: Growth hormones can be suppressed, which can also impact the immune and digestive system.
Memory and Attention: Attention deficits can develop as well as short-term memory complications.
Increased Risk for Auto Accidents
Sleep deprivation also significantly increases your risk for accidents. With the National Sleep Foundation reporting that 60% of adult drivers admit to driving while feeling drowsy, this creates a large concern for personal and public safety.
The National Highway Traffic Safety Administration says that more than 100,000 crashes each year are a direct result of driver fatigue, which results in about 1,550 deaths. A study by the AAA Foundation for Traffic Safety has reported that those who sleep 6 to 7 hours per night are twice as likely to get in an accident and those with less than 5 hours are 5 times as likely to suffer an auto accident.
Get a Restful Night's Sleep Today!
If you have noticed that your sleep quality is declining, it is important to undergo a sleep study to be tested for sleep apnea in Preston Hollow. With the right treatment, you can restore your sleep quality to protect your well-being and health.
Dr. Frank L. Higginbottom
Dr. Frank L. Higginbottom is a trusted dentist in the community who creates healthy, beautiful smiles. Due to his diverse training, he also provides many areas of specialty care, including the treatment of sleep apnea in University Park. If you suspect that you have the sleep disorder, contact Dallas Esthetics today to schedule a consultation.