Meet Dallas Dentist
Dr. Frank Higginbottom

From Kansas to Switzerland to Preston Center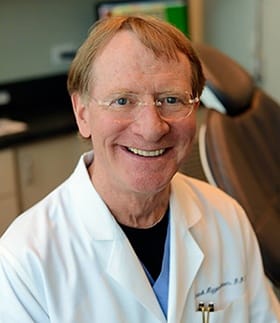 Born and raised in Kansas and Oklahoma, Dr. Higginbottom has called Texas home for more than 40 years. He and his wife have deep roots in Highland Park, and they cherish the opportunity to watch their grandkids learn and grow as part of the same community.
At the same time, Dr. Higginbottom has utilized his international reputation and love of learning to bring the best dentistry from across the globe back to his patients here in North Texas. Clinical excellence drives everything he does, and the life-long friendships he has formed with patients and colleagues are equally important.
Why He Became a Dentist
Dr. Higginbottom's father was an engineer and craftsman. As a result, unique tools and materials were always around. Whether finishing an arts and crafts project for school or woodworking with his dad, Dr. Higginbottom loved creating things with his hands. To him, pursuit of an engineering degree was a natural extension of these interests.
While in college, he also became interested in medicine and found that dentistry combined the best of both worlds. It required extensive scientific knowledge yet provided the opportunity to be creative and to work with your hands. Most importantly, it allowed him to interact with his patients and to have a direct impact on the quality of their lives.
Dr. Higginbottom's Dental Education & Training
After earning his undergraduate degree at the University of Oklahoma in Norman, Dr. Higginbottom was accepted into the Baylor College of Dentistry in Dallas. He welcomed the opportunity to move further south, and he quickly gained recognition for his ability to rebuild the function and beauty of natural smiles. He enjoyed the challenge of the toughest cases yet never forgot he was part of an overall healthcare team.
Upon graduation from dental school, Dr. Higginbotham had the honor of joining the United States Army and helping prepare our soldiers for the conflict in Vietnam. After two years of service, he returned to Dallas and opened his own office in the Baylor University Medical Complex in 1974. This afforded him the opportunity to be an instructor at the dental school, work on cases in conjunction with the hospital and see his own patients in private practice. In addition, he began researching and testing dental implants.
As a member of the prestigious ITI, The International Team for Implantology in Switzerland, Dr. Higginbottom has played an important role in the development of dental implants into the gold standard for replacing missing teeth. He continues to advance his ability to treat his own patients through his lecturing and research across the world.
Life Away from the Dental Practice
Life as a grandpa is great. As his kids grew up, Coach Higginbottom was often on the sidelines encouraging and continuing his love of teaching. Now, he can often be found on the sidelines of youth soccer games across Texas – as the #1 fan. In addition, he tries to find time for a little exercise and fishing while pursuing his love of photography.
All of these interests come together through his more frequent trips with friends and family. Whether to his favorite destinations of Seaside and Watercolor in Florida or the Alps in Switzerland, Dr. Higginbottom relishes the opportunity to get away and relax. At the same time, this only helps him bring a truly international perspective on the art and science of dentistry to patients across North Texas.