Get Full and Partial Dentures in Dallas
Protect Your Oral Health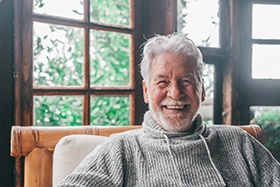 Whether you've lost a handful of teeth or all of your teeth over the years, it doesn't mean you should settle for an incomplete smile. Not only can you improve your appearance with dentures, but you can prevent health problems often associated with tooth loss. Some of these problems include neighboring teeth shifting into the empty space. Another common problem is a reduced diet, especially for those missing an entire arch. The good news is dentures in Park Cities are more lifelike than ever before and work to replace missing teeth affordably. To get your custom denture created, contact any of the expert prosthodontists at Dallas Esthetics today!
What are Full and Partial Dentures?
Dentures are removable prosthetics designed to replace lost teeth comfortably and naturally. Whether you choose a full or partial denture, both devices are created from a flesh-colored acrylic base which fits over your gums. The upper denture is larger and includes a flat section that covers the roof of your mouth, also known as the palate. The lower denture is simply shaped like a horseshoe in order to create room for your tongue.
Full dentures are held in place by forming a seal with the gums as well as a denture adhesive if necessary. Partial dentures make use of metal clasps that attach to a metal framework on your natural teeth. Once you've adjusted to wearing them, eating and speaking will be far easier than before. Of course, if you're interested in restoring smile to the fullest extent, fitting dentures with dental implants may be recommended as well.
How to Care For Your Dentures
Denture care is essential to making them last as long as possible. Full and partial dentures can crack or break if dropped into your sink while cleaning. Therefore, you should always clean your dentures with a towel in the sink or fill the sink with water beforehand to cushion any drops. Brush your dentures daily to remove plaque and food debris. Keep them in cool water or denture cleanser when not in use. This will prevent them from changing shape and becoming ill-fitting. Never use hot water as this can permanently warp them. Furthermore, it's still important to brush your gums, natural teeth, tongue and palate before and after wearing your dentures. Brushing works to remove plaque and stimulate your oral tissue.
Are You a Candidate for Dentures?
The denture you choose will depend on how many teeth you're currently missing. Of course, patients will need to have healthy gum tissue and a healthy jawbone to properly wear a denture. If you're only missing one or two teeth, then your dentist may recommend a dental bridge over a denture. If you're missing multiple sections of teeth, a partial denture should suffice. If you need either a single arch or both arches replaced, then a full denture will work best.
The only way to know for sure which denture is right for you is to schedule a consultation with a dentist in Park Cities and University Park! They'll work with you to make sure that your new denture fits comfortably. They'll also help you maintain the denture for many years to come. Contact us today!