Implant Dentistry
Dental Implants for the Park Cities, Preston Hollow and Lakewood Areas of Dallas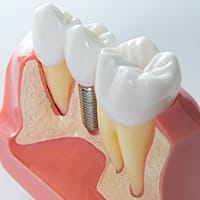 Is your smile incomplete because of one or more missing teeth? Are you bothered by an ill-fitting denture on a daily basis? There may be a wonderful solution available with dental implants. Thanks to this fantastic restorative treatment, patients can begin to enjoy results that are unlike anything that can be achieved with a traditional fixed bridge or denture. Yes, dental implants enable you to eat, smile, and speak with confidence -- keep reading to learn more about how they work, and whether or not dental implants are right for you.
What Is the Process for Dental Implants?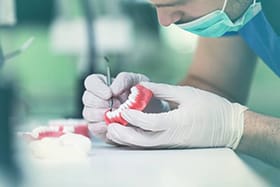 A full restorative treatment plan with dental implants is completed in two phases: the placement/surgical implantation phase followed by the restoration phase. From start to finish, the entire process takes several months. The results will look and feel more natural than any other option.
During the initial placement phase, your oral surgeon will place one or more titanium implants into your jawbone at the location of the missing teeth roots. Each implant functions as a prosthetic root that fuses/integrates with the jawbone in a process known as osseointegration. The implant acts as the anchor to which the prosthetic tooth will be attached.
The osseointegration process generally takes a 4 to 6 months to complete. It results in a strong, natural bond between the implant(s) and bone. This bond ensures a fully restored smile that looks and functions like natural teeth.
Once the osseointegration process has finished, you will return to Dallas Esthetics for the second phase of treatment, the fabrication and attachment of your new restoration -- the crown, bridge, or denture that helps you eat, speak, and smile with ease!
What Are the Benefits of Dental Implants?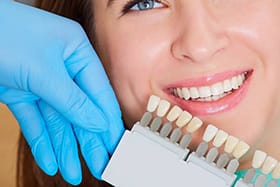 Because they offer a comprehensive solution for tooth loss, dental implants come with a host of benefits for patients who are dealing with missing teeth. No matter how many pearly whites you have lost, implant dentistry offers a wonderful solution.
Just some of many considerable benefits of dental implants include:
Implants promote better oral and overall health for years and years to come.
A sturdy tooth replacement supports a balanced, nutritious diet.
It is easier to speak clearly with the help of dental implants.
Dental implants look more natural than other replacement options.
By stabilizing the jaw bone, dental implants prevent the loss of additional teeth.
When cared for properly, dental implants can last a lifetime!
What Is the Cost of Dental Implants?
Dental implant procedures vary widely from one patient to the next. It is impossible to give an accurate estimate without a consultation with our office. During this appointment, your dentist will consider several factors to determine an approximate cost of your dental implant procedure. Dental implant costs are influenced by the following:
How many implant posts you require
The need for preliminary procedures, like bone grafts, sinus lift, etc.
Where in the jaw the posts will be placed
What the dental implants are made of
Am I a Good Candidate for Dental Implants?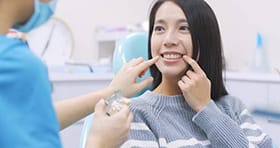 While anyone who is missing one or more teeth should consider dental implants, not everyone is a candidate for this treatment. A strong, healthy jaw is important, as is good oral and general health. When this is lacking, a bone grafting procedure can help to create the proper environment for dental implants. The only way to know for sure whether or not you can benefit from dental implants is to schedule an appointment with your implant dentist!
Where Can I Learn More about Dental Implants?
To learn more about the very best tooth replacement, do not hesitate to get in touch with your dentist in University Park at Dallas Esthetics! Our team looks forward to discussing dental implants with you. Even if you are not eligible, we can identify the next-best solution for your smile. Go ahead and contact us today.