Porcelain Veneers in Dallas
If you have multiple imperfections affecting the appearance of your smile, it can be daunting to consider undergoing several cosmetic treatments to fix them. Fortunately, porcelain veneers provide a solution to any number of flaws -- with just one treatment. These thin coverings made of dental porcelain transform the size, shape, color, and overall appearance of the teeth that show when you smile. Most patients are good candidates for porcelain veneers!
What Are Dental Veneers?
Veneers are one of the most popular options in cosmetic dentistry currently available, as they provide something of a do-over for your smile. They are tooth-shaped restorations that are permanently affixed to the front sides of the teeth that show when you smile. Veneers are fully customizable to reflect the look that suits you best.
Most veneers are crafted from 100% porcelain, a material that reflects light just like your natural tooth enamel. Porcelain is more resistant to stains than your regular teeth, however, meaning that veneers can stay bright white for years after their application.
How Are Porcelain Veneers Applied?
After we determine that porcelain veneers are the best solution for your smile, you can expect the treatment to be carried out over the course of two appointments to Dallas Esthetics. During the first visit, we will decide on the specifications that fit your unique needs and put together a treatment plan built just for you. Next, we remove a small amount of tooth enamel from the surface of the front teeth -- doing so helps ensure the permanent veneers will lie flat in the smile. Impressions are made, and we will place temporary veneers for you to wear in the time between appointments.
In the second appointment, your dentist removes the temporary veneers and checks the fit of the permanent restorations. After any necessary adjustments are made, the permanent bonding material is placed and the veneers are securely affixed to the front teeth.
How to Maintain Veneers?
After you receive your veneers, keep up with your good dental hygiene habits to enjoy your beautiful smile. Brush, floss, and visit your dentist regularly, and your veneers can last for many years. Protect your new smile with a custom-fitted mouthguard if you grind your teeth at night or play sports.
Who Is a Candidate for Porcelain Veneers?
Most adult patients who are in good oral health are candidates for dental veneers. We usually advise patients to wait until they are older than age 18 to get veneers, as an unexpected growth spurt or change in the teeth could cause veneers to have to be replaced (an expensive undertaking). Additionally, patients should have good periodontal and dental health, free from gum disease and tooth decay, before getting dental veneers. We will schedule a checkup and cleaning to ensure your smile is healthy before we begin with veneers.
Understanding the Cost of Veneers
Many people believe the cost of veneers in Dallas exceeds their budgets, but they can be the most affordable option to improve your smile. Various factors affect the amount you'll pay to fix your aesthetic concerns, like the procedure. However, the cheapest method isn't always the best because it can involve complex or lengthy treatment plans. Your cosmetic dentist will explain all your options to find the solution to fit your needs and budget.
Cost VS Cosmetic Dentistry: What's Right For Me?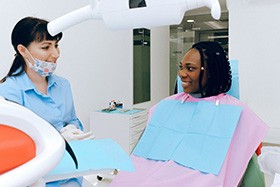 No two mouths or situations are the same. We have several services to address common aesthetic concerns, like stains, discoloration, or gaps. Each procedure has different costs and timeframes. After examining your mouth and learning more about your goals, your cosmetic dentist in Dallas will review all your options, which may include:
Braces: Whether metal braces or clear aligners, orthodontic treatments can fix the most complex bite and alignment problems in about 12 to 24 months. Many insurance plans can be used to offset the cost, but braces can be a long, costly commitment if you only need minor adjustments.
Teeth Whitening: A highly concentrated whitening agent can get teeth up to 8 shades whiter with results that can last for many months to several years when used for surface or age-related discoloration.
Direct Bonding: A composite resin provides a quick fix for minor imperfections, like decay, chips, or cracks. It will blend in with the enamel and can last for 5 to 10 years before needing to be replaced.
Veneers: Attaching thin shells to the front surfaces of teeth visible when smiling corrects many issues simultaneously, like discoloration, chips, and gaps. The minimally invasive procedure can prevent needing multiple treatments to save time and money. Veneers have an average life expectancy of 10 years, but they can last for much longer with the right aftercare.
Your dentist will help you choose the best option to achieve the smile of your dreams without spending your life's savings.
How to Make Veneers Affordable
A member of our team will review your estimate for veneers in Dallas and explain your payment options to help you find the solutions you need to fit your budget, including:
Traditional Payments: Our office accepts all traditional payment options, including cash, personal checks, and credit cards.
Dental Insurance: Most dental insurance plans don't include elective services unless a treatment is medically necessary, which can be the case when needing replacement veneers. However, your dental insurance may cover other steps in your treatment plan, like any preparatory services, like a dental cleaning. We will work on your behalf with your dental insurance to maximize any applicable coverage.
Financing: Pay any out-of-pocket expenses using a monthly payment plan with little or no interest through a third-party financing company, like CareCredit.
If you have any questions about the cost of veneers, or you're ready to schedule your consultation, contact our office today. We look forward to creating your picture-perfect smile.
Frequently Asked Questions – Porcelain Veneers
Are you still unsure of whether you want to commit to getting porcelain veneers in Dallas? Maybe you're excited to finally get the attractive smile you've always wanted, but you still have some questions about the treatment. Not to worry – we have answered a few frequently asked questions about porcelain veneers below. If for some reason you don't find the information you're looking for on this page, you can always reach out to us and ask us directly!
Will Getting Porcelain Veneers Increase My Risk of Getting Cavities?
Veneers simply cover the front-facing surfaces of your teeth. While they conceal aesthetic imperfections, they do not impact your likelihood of getting cavities. Just like any other teeth, you may develop cavities if plaque builds up in your mouth. That's why, even after you receive veneers, it's imperative that you continue to brush, floss, and visit your cosmetic dentist in Dallas for checkups and cleanings on a regular basis.
Are Veneers Permanent?
To ensure your veneers sit flush against your teeth and appear natural, we must remove a thin layer of enamel from your affected teeth. Enamel cannot grow back once it has been lost, which makes veneers a permanent treatment. Moving forward, those teeth will always need veneers or other restorations to protect them from decay, sensitivity, and damage. However, as long as you take good care of your veneers, you can expect them to last for a decade or more before they'll need to be replaced.
Does Getting Veneers Hurt?
Shaving off a layer of enamel from your teeth may sound painful, but rest assured that we'll do our utmost to make you comfortable. Before preparing your teeth to receive veneers, your dentist will most likely numb the area of your mouth they'll be working on with a local anesthetic. If you need a little help relaxing, we can even offer nitrous oxide sedation to soothe your nerves.
The more veneers you're getting, the higher the odds are that you'll experience some soreness in your gums and/or jaw after the numbness wears off. However, this discomfort should dissipate after a few days at most. In the meantime, taking an over-the-counter pain medication like acetaminophen should be enough to alleviate it.
Are There Any Foods I Shouldn't Eat with Veneers?
If you have a few mildly crooked teeth, no longer do you have to wear metal braces for a year or more to attain a straight smile. Braces come with a litany of foods that you can't eat unless you want to risk breaking a wire or bracket. By contrast, veneers can instantly correct slightly crooked teeth without having to wear clunky orthodontic gear. For that reason, veneers shouldn't impact your diet.
As with your natural teeth, though, chewing on particularly hard foods, like nuts and hard candy, and inedible objects like ice can lead to breakage. However, chipping or cracking is quite rare in veneers due to porcelain's remarkable durability.
Schedule an Appointment Today
Are you interested in transforming the appearance of your smile? If so, don't wait to get in touch with the team at Dallas Esthetics. We are conveniently located in the heart of Dallas. We can't wait to discuss all of your options in cosmetic dentistry, including porcelain veneers. Call us to schedule an appointment today!