Dental Crowns and Bridges – Dallas, TX
Artfully Restoring Your Smile
Do you have one tooth that just doesn't shine like the rest, whether it's chipped, discolored, or has some other minor flaw? Are you missing several teeth in a row? Either way, you could benefit from dental crowns and bridges. These flawless restorations are able to cap your tooth, or even multiple teeth at the same time. Dr. Higginbottom, Dr. Hildebrand, and Dr. Derksen are all skilled artists when it comes to designing crowns and bridges that perfectly fit your smile. Contact us for a consultation to see if we can artfully restore your smile today.
What Is a Dental Crown?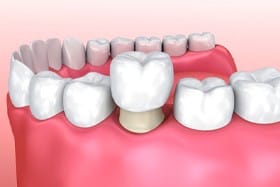 A dental crown is also known as a "cap" because it's a customized covering that slips on over a tooth that has been weakened by fracture of decay. It allows us to beautifully restore the tooth's strength, function, and appearance. A crown can also be placed over a tooth that appears stubby, discolored, or misshapen to correct those cosmetic imperfections.
Our dentists will shade the crown so that it perfectly matches the enamel of the surrounding teeth and blends in seamlessly with the rest of your smile. Unless you talk about how easy the procedure was, no one ever has to know you got a dental crown in Dallas.
What Are the Advantages of a Dental Crown?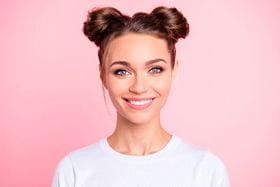 Dental crowns come with many advantages over other restorative procedures. For one thing, it's not only restorative, but cosmetic as well. This means that we can skillfully shade it to until it matches the surrounding teeth. We can even do so in a way that makes the rest of your teeth look brighter too.
Crowns also can be used to repair teeth that have been weakened. When a filling alone is not enough to heal a tooth with serious decay, that's where a crown comes in. It may also be used to hold together the pieces of a severely cracked tooth, or protect an already broken tooth from further wear and tear.
What Is a Dental Bridge?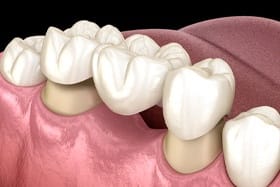 Dental bridges were created to literally bridge the gaps in your smile. They consist of two more crowns for the teeth on either side of the gap in your mouth and one or more prosthetic teeth in between. They can be supported by both natural teeth and dental implants, so if you've got implants, there's no need to worry. We may simply have to switch out the crown on top of that implant for one secured to a dental bridge in Dallas.
What Are the Advantages of a Dental Bridge?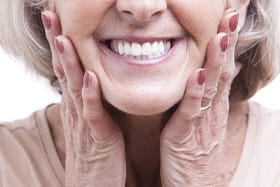 Like dental crowns, dental bridges offer a multitude of benefits. They can restore your ability to smile and enjoy all your favorite foods with ease. You will be able to chew and speak properly, which, if you're missing several teeth in a row, presents quite the challenge. It also prevents missing teeth from shifting into the gap left behind in your mouth and keeps your jawbone from deteriorating, preserving the natural shape and structure of your face for years to come.