Meet Dallas Dentist
Dr. Richard Derksen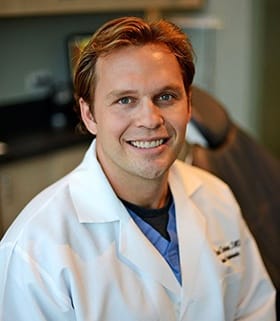 We're incredibly proud to have Dr. Richard Derksen as a part of our team here at Dallas Esthetics. His expertise in the craft and design of high-quality dental restorations is sure to give you the confidence that your smile not only looks great, but feels great and lasts a very long time. Below, you'll get the chance to learn more about his path to Dallas Esthetics as well as a bit more about his life outside of the world of restorative dentistry and prosthodontics.
Why I Became a Dentist
Ever since Dr. Derksen can remember, he's had a fascination for the sciences and how things worked. He's enjoyed countless hours working with his hands, crafting model airplanes, working with ceramics, building things in his spare time and understanding why things were the way they were. This passion for crafting combined with his interest in the sciences is what drove him to start his pre-med and pre-dental education. However, at some point during his time at SMU, he found himself drawn towards other professional fields as well, including the business/finance sector. After graduating from SMU, he moved to Washington, D.C. to begin business consulting for several years.
Of course, he realized he couldn't stay there much longer after realizing that his true passion was dentistry. In fact, the dentist he was visiting during his time in D.C. was in the same building he was working in! He's incredibly glad that he went back to school to finish his dental degree, his specialty and board-certification in prosthodontics, eventually giving him the opportunity to establish a role here at Dallas Esthetics!
My Professional Education and Training
As mentioned, Dr. Derksen began his higher education at Southern Methodist University, where he earned a bachelor's degree in Business Administration. After a few years of consulting and eventually realizing that his passion for the sciences never went away, he found himself back at school to earn the additional credits he'd need to get enrolled. Thankfully, Dr. Derksen become acquainted with Dr. Higginbottom's son, whom he originally met in high school and is currently a dentist himself. Prior to pursuing his dental degree, he shadowed him for a week and confirmed that dentistry was his true calling.
Dr. Derksen worked as a dental assistant before making his way to dental school. This additional experience working in an actual office only aided him as he enrolled into Boston University's dental program, where he earned his Doctor of Medicine in Dentistry. As part of his schooling, he needed to find a dentist to be his mentor and complete multiple rotations with. This dentist ended up being Dr. Higginbottom, where he confirmed how much he enjoyed the cosmetic and engineering aspects that came with dentistry.
After graduating from BU, he attended the Baylor College of Dentistry to earn his Master of Science and Certificate in Prosthodontics. In 2014, he become board-certified in Prosthodontics, but he's been a partner with Dallas Esthetics since 2012! Today, he works diligently alongside Dr. Higginbottom and Dr. Hildebrand. You can also find him involved in many study clubs as part of his continuing education, including with the Seattle Study Club and SPEAR Education.
Life Outside of the Dental Practice
When he's not working, Dr. Derksen is spending quality time with his wife and three children. As an active individual, you can find him playing hockey with his father, hitting up the Northwoods golf course and tennis courts, or skiing in Denver, specifically in Vail. He wants to spend more time outside of Texas as well, including in Arizona and parts of the northeast where his wife hails from. You can also find him occasionally volunteering at the Highland Park high school. As part of his commitment to helping those in need, he works with Leap Global Missions, an organization dedicated to helping communities in other countries receive the dental care they need, including Belize where Dr. Derksen will soon be heading.