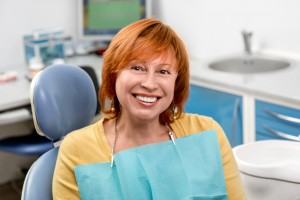 After you've had a tooth restored or replaced with a dental crown, bridge, dental implant, or veneer, the last thing you want to do is end up back at the dentist's to repair it. Your prosthodontist in Dallas, Dr. Frank Higginbottom and his team, want to remind you of the steps you can take to keep your teeth healthy for a lifetime!
In this week's blog post, let's take a look at 5 tips that will keep your new implant, crown, bridge, or veneer sturdy and strong.
#1: Visit the Dentist Regularly
Six month visits to your dentist are always crucial for keeping your smile healthy, and that's especially true after you receive a restoration. We will schedule a follow-up visit soon after your crown, bridge, dental implant, or veneer is placed — make sure you attend this appointment so we can confirm everything is just as it should be. Then, keep up with your regular six month visits for lasting oral health and wellness.
#2: Brush and Floss Like You Should
It's true that a prosthetic tooth or dental restoration can't develop decay, but the teeth around and beneath it can — and your gums are always at risk of periodontal (gum) disease. What's the best way to avoid these common oral health hazards to protect your new restoration? Simple brushing and flossing. Use a fluoride toothpaste and brush your teeth in gentle circular motions for two minutes, after each meal or at least twice a day. Floss between your teeth at least daily to remove the food particles your toothbrush just can't reach.
As you clean around your restoration, concentrate on the base to prevent plaque and bacteria buildup. Do not jerk the dental floss around a crown, bridge, or veneer — instead, work it gently up and down between the teeth.
#3: Follow Our Instructions Closely
Your prosthodontist will send you home with specific instructions for maintaining your restoration, like what to eat, how often to clean, and when to come see us. Make sure you follow all directions closely — we share them for a reason! If you ever have any questions, please feel free to contact us at any time.
#4: Wear a Mouthguard
If you play contact sports or grind your teeth at night, you'll need a little extra protection to keep your restoration intact. Wear a customized mouthguard to keep your crown, bridge, or veneer from breaking due to force or impact.
#5: Evaluate Your Diet
Keeping your smile healthy after restorative dental care means eating a balanced, nutritious, low-sugar diet. Rinse your mouth out — or better, brush your teeth — after consuming sugary foods or beverages. Dental porcelain/ceramic is highly stain resistant, but you'll want to think twice before consuming that third cup of coffee to avoid discoloring your natural tooth enamel. You may also need to avoid biting into extremely hard, crunchy, or chewy foods, depending on your restoration.
Questions? Get In Touch With Us Today!
If you have remaining questions, or if you'd like more advice on keeping your restoration healthy for life, please don't hesitate to contact your prosthodontist at Dallas Esthetics. Request an appointment today!