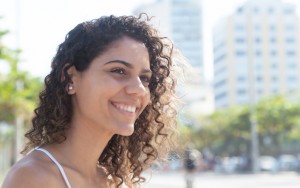 You're the type of person who knows the importance of projecting a positive image. The lawn in front of your house is pristine and green, and the cars parked in the front are glistening and clean. You make sure your clothes match in the morning. You know simple touches like this can help you win hearts and minds, whether it's in a social or professional context. The only thing that looks out of place are your teeth. They are discolored, or there are obvious gaps. You take care of your teeth, but it does little to address these problems. That's where porcelain veneers in Park Cities from Dallas Esthetics may be able to help.
Teeth can be very healthy, yet not aesthetically pleasing. Brushing your teeth can help keep them healthy and maintain their current appearance, but it does nothing to drastically improve their look. Porcelain veneers are able to correct a variety of dental issues that might compromise the appearance of your smile, such as:
Cracked or broken teeth
Discolored teeth
Slightly misaligned teeth
Obvious gaps between teeth
Procedures to fix each one of these issues would be both expensive and time consuming. Porcelain veneers are able to address all of them and give you a new, shining white smile with one simple procedure. Porcelain veneers are extremely thin ceramic shells that are bonded to the front of your teeth. They are held on by a composite resin, assuring they not only look like natural teeth, but are just as strong. The porcelain is also stain proof, assuring the fresh white glow will endure over time.
How Do I Get Porcelain Veneers?
The procedure to get veneers is very simple and non-invasive. The first step is to visit Drs. Frank Higginbottom, Richard Derksen, or Kimberly Higginbottom Fesler so they can give your teeth a thorough exam. This will ensure that porcelain veneers are right for you, as well as allow you to ask any questions. The procedure involves 3 basic steps performed across 2 visits:
A tiny portion of your natural enamel will be gently removed to make room for the veneers
An outside lab will fabricate your veneers
You'll returned to have the veneers actually placed on your teeth
Porcelain veneers can last up to 20 years with proper maintenance, which only involves routine brushing and flossing. They should feel like natural teeth in your mouth, and will be able to function like them as well.
Are They Right For Me?
Many smiles can be enhanced using porcelain veneers, the only question is what can they do for you? If you think porcelain veneers might be the boost your smile needs, please give us a call today so we can answer all of your questions.