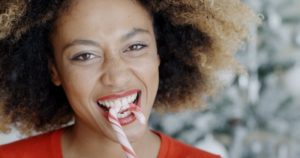 As the end of the year approaches, many of us are looking forward to seasonal traditions, like catching up with family, exchanging presents, and of course, enjoying delicious holiday foods! Even as you're taking part in all of the festivities, keep in mind that indulging in too many sweet treats can leave you with cavities, or, even worse, a dental emergency! Being aware of what you're filling your plate with can keep your smile healthy throughout the holiday season and into the new year. Here are four popular holiday foods that you should avoid in order to protect your smile.
Stuffing
Although this holiday side dish isn't particularly sugary, it can still damage your teeth. Stuffing is primarily made of carbohydrates, which turn into sugars almost as soon as you start chewing. Harmful bacteria in your mouth use these sugars as fuel to create cavities.
Eggnog
This popular seasonal beverage contains more sugar than you might have thought. In fact, one serving typically has about 20 grams of sugar, which is near the daily limit suggested by the American Heart Association. Just two glasses of eggnog could exceed the amount of sugar that professionals recommend you have in a day, leaving you to start off the new year with a mouth full of cavities!
Candy Canes
You're probably already aware that candy canes are pretty much just pure sugar. However, their hard nature can also make them a hazard to your smile. Chewing on candy canes can weaken and wear down your tooth enamel. Plus, accidentally biting down too hard could chip or crack your tooth. Sucking on candy canes isn't much better, as it bathes your teeth in sugary residue that can remain on your teeth for quite some time.
Dried Fruit
Even though fruit contains vitamins and minerals that benefit your oral health, dried fruit is a whole other story. The dehydrated versions of your favorite fruits are packed with sugar, including fructose and glucose. Not to mention, dried fruit can easily stick to the surfaces of your teeth, giving bacteria ample time to feast on the sugars and cause cavities.
You don't have to cut out these holiday foods entirely, but try your best to consume them in moderation. If you can, brush and floss your teeth after eating, or at least rinse your mouth out with water. That should keep you from having to schedule an emergency dental visit over the holidays!
About the Author
Dr. Frank Higginbottom is a dentist with more than four decades of experience. He graduated from the Baylor College of Dentistry in Dallas. After serving in the United States Army, he opened up his own office in Dallas. He strives to prevent oral health problems before they occur by educating his patients on mouth-healthy food choices. For more information on keeping your teeth healthy this holiday season, visit his website or call Dallas Esthetics at (214) 827-1150.