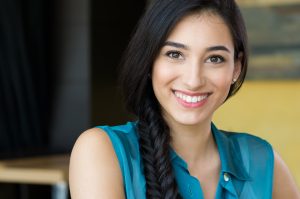 If you've just undergone a professional teeth whitening treatment at Dallas Esthetics, one thing is for sure: you will want to enjoy your bright results for as long as possible. We'll usually provide you with a personalized touch-up kit after whitening, but taking a few extra steps can help you reduce stains so that you won't have to think about even touching up for a long time to come. So don't go anywhere — your cosmetic dentist in Preston Hollow has three tips for maintaining your white smile in this week's blog post!
#1: Drink Through a Straw
The next time you're waiting for your morning croissant at the coffee shop, pick up a straw to go with your hot cup of coffee or tea. It's a small adjustment in your daily routine that can make a big difference in the shade of your teeth. Drinking through a straw keeps highly pigmented liquids (i.e. coffee, dark sodas, teas) off your tooth enamel — so you can continue your caffeine habit without worrying about taking away from your new dazzling smile. Pick up a straw to continue enjoying your teeth whitening in Preston Hollow!
#2: Rinse Your Mouth Out
No, not with soap. We're not talking about that classic punishment for cursing — but rinsing your mouth out with pure, clean H2O after drinking or eating something with a dark color washes away the pigments that stain your teeth, and it really only takes a few seconds to do. If you want to take your cleansing one big step further, throw a toothbrush into your bag or briefcase and brush your teeth after each meal throughout the day!
Some foods that are especially likely to cause staining include…
Ripe berries

Tomatoey pasta sauce

Dark chocolate

Steak

Curry

Turmeric

Balsamic vinegar
#3: Choose a Whitening Toothpaste
You can remove surface stains from your teeth and prevent them from taking on the shades of what you eat and drink by brushing with a toothpaste that is specially formulated to whiten as it cleans. Make sure it also contains fluoride so you get all the cavity-fighting benefits at the same time! Any toothpaste that is certified by the American Dental Association is guaranteed to contain the mineral.
Bonus Tip: Visit Your Dentist This Month!
Last but not least, one of the most effective ways to smile brighter is by undergoing routine preventive dental care. With a checkup and cleaning every six months, we can remove surface stains with special tools and help you avoid decay and other oral health hazards that affect the appearance of your smile.
When was your last visit with your dentist in Preston Hollow? If it's been longer than six months, it's time to come in. Contact us to schedule an appointment today!