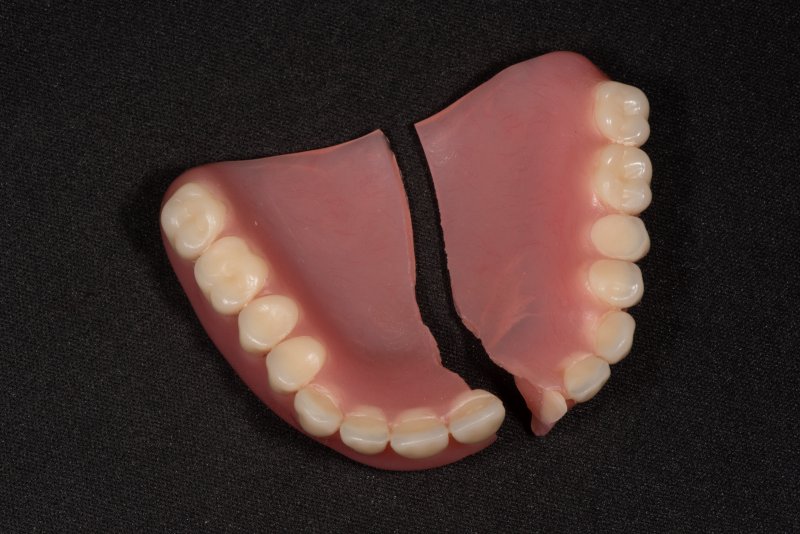 While wearing dental prosthetics, you may feel confident in your ability to eat, speak, and even play sports. Because of the materials used and the durability they offer nowadays, it might seem as if your artificial teeth will last forever. But what should happen if a sudden accident occurs? Are broken dentures considered a dental emergency? The only way to find out is to listen to a local dentist who explains why seeking treatment right away is the best way to avoid further harm to your smile.
How Durable Are Dentures?
Although dentures are made from strong and durable materials (typically acrylic with porcelain artificial teeth), they can sustain damage if too much pressure is applied.
Over time, normal wear and tear can be expected, but a break can be caused by accidentally dropping your dentures in the sink while cleaning them, experiencing a hard hit to the mouth while playing sports, or eating something hard.
What Should You Do if Your Dentures Break?
You may be tempted to try and repair the damage yourself. These days, there are denture repair kits on the market that can be used, but most dentists will admit that this option should only be pursued in dire circumstances. Otherwise, it's best to wait and let a professional provide help.
When noticing that your denture is broken, do not attempt to put it back into your mouth. The jagged and rough edges could cause lacerations to your gums and cheeks, and if you have any remaining natural teeth, they, too, can be harmed by continuing to wear a damaged denture.
Once you arrive at your dentist's office, they'll look at the prosthetic to determine the severity of the problem. If the break is minor, they may only need to reline it so that it fits better.
If the break is too significant and no longer allows the denture to be functional, your dentist will need to have a new denture created.
There is also the option of switching from dentures to dental implants. If you're tired of dealing with the frequent adjustments and replacements required with these traditional prosthetics, you can opt to switch them out for permanent ones that fit into the jawbone and deliver superior support.
The choice is yours, but no matter how you decide to move forward, seeking the help of a trusted dentist should your denture break is essential. It is with their help that you can determine what step you would like to take to restore your smile.
About the Author
Dr. Richard Derksen is a dentist with Dallas Esthetics who has been a part of the team for nearly 15 years. Bringing together his passion for art and science, he enjoys being able to help patients recapture a more youthful and functional appearance. When working alongside a person with a broken denture, he strives to minimize pain and restore smiles as quickly as possible. If you need help to fix your new artificial teeth, visit our website or call (214) 827-1150.