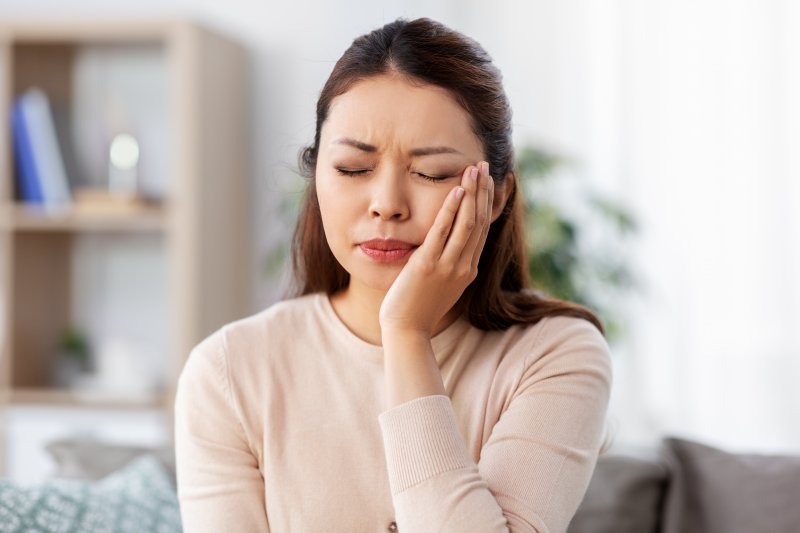 When you have a toothache, it might not matter to you in the immediate moment why that is—your top priority is getting relief as soon as possible. An emergency dentist will be happy to help you do that, but there's a lot that you can do to make their job easier.
The pain you're feeling is your body's way of telling you that something is wrong, and what that might be. Figuring out which issue you're facing will make communicating with your dentist much easier, which may make treatment faster. In that spirit, here's what certain kinds of dental pain may mean for you.
Sensitivity
If you find that your teeth are normally fine, but that you feel a little bit of discomfort when biting into something hot or cold, that's usually a sign of tooth sensitivity. If mild, it may be due to some slight enamel erosion, which can be treated with sensitivity toothpaste. If severe, it may be a sign of a cavity or even a crack in your tooth.
Dull, Consistent Pain
If you're feeling a constant pain that doesn't seem to fade, that could be indicative of a few different things. For one, it's possible that you could have something lodged in your teeth or gums, so it's worth examining your teeth closely to ensure that that's not the case.
If you don't see anything, you might be grinding your teeth without realizing it, which is putting pressure on one of your teeth.
Severe, Throbbing Pain
If you are in a lot of pain that throbs and doesn't seem to fade, that's a surefire sign of an infection deep inside your tooth. You may also have an abscess as a result of the infection, further increasing your discomfort. This kind of infection is incredibly serious, so it's worth getting attention as soon as possible so that it doesn't spread.
Sharp Pain
If you feel a sudden, sharp pain, that could be a sign of a crack or fracture, or that you've lost a crown or filling. All of these conditions warrant emergency attention, so if you feel a sharp pain, you should call your dentist ASAP.
About Our Practice
At Dallas Esthetics, we're happy to welcome our patients into our office, where they'll find a dedicated dental team who will make them feel at home. We've designed our office to have both the latest equipment in oral medicine and all the comforts you could need to feel completely comfortable for the duration of your stay here.
If you have any questions about tooth pain, we can be reached at our website or by phone at (214) 827-1150.