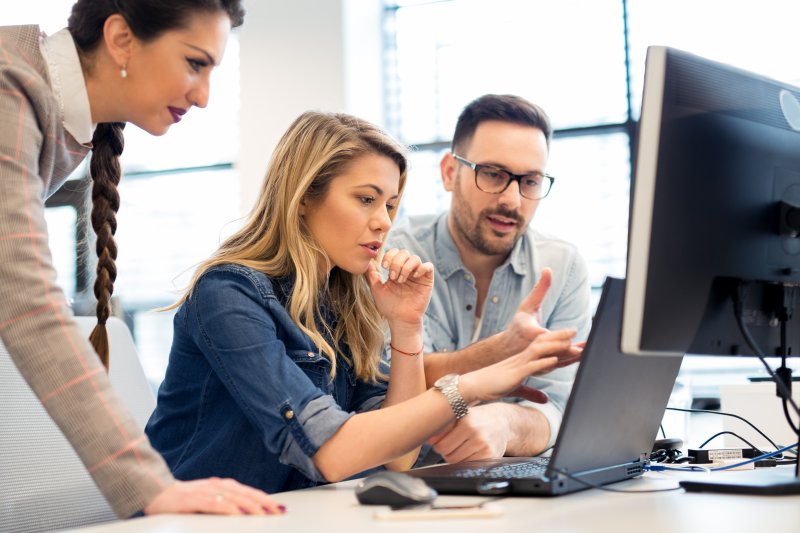 Ever since you were a teenager, you've dreamed of having an exciting job among the hustle and bustle of downtown Dallas. Many other people have shared that goal, however, and the professional competition is stiff.
You believe you have the knowledge and drive to succeed, but is there something that could get you over the hump to stand out among the qualified applicants? Believe it or not, nonverbal communication goes a long way in a job interview or for your continued progress at work. A great smile could be your golden ticket.
A study conducted by Kelton Research wherein participants whitened their teeth and went on simulated job interviews showed that 58 percent of them were more likely to be hired than if they did not do the whitening, 65 percent were viewed as more professional, and 61 percent were seen as more confident. Before you attempt your next career move, learn how whitening your teeth could make a positive impact on that endeavor.
You Never Get a Second Chance to Make a First Impression
As soon as you walk through the door at a job interview, you are already being evaluated. They have seen your resume but flashing a winning smile can only help remove any doubts that may remain. Research suggests that a first impression is made in one-tenth of a second, so an interviewer's mind could be made up before you utter a word.
White teeth and a confident smile show that you care about your appearance and that you are clean and healthy. It would be nice to live in a world where people are not judged on their appearance, but that is simply not the case in a professional environment.
Sales Never Fails with a Great Smile
Perhaps no career values a confident smile more than if you work in sales. Studies show that customers are more likely to buy from an attractive salesperson and many people consider good-looking teeth to be a significant indicator of beauty or handsomeness.
Subconscious triggers tend to make a customer more comfortable buying from someone sporting pearly whites as compared to someone with poor oral hygiene. Most certainly this is true if your job is in dental sales; practice what you preach, after all.
Confidence in the Workplace Can Only Help
Maybe you already have a job, but you are eyeing a promotion and looking for every advantage to make it happen. Being confident and friendly in interactions with your coworkers is going to be noticed by your supervisor.
Think about it; if you refrain from laughing and smiling because you don't want to show your teeth, you are never going to let your guard down and you probably won't be seen as approachable. On the other hand, having whiter teeth will make you feel better about smiling. That will help you open up to coworkers to form friendships and help you network.
Nobody wants to be thought of as standoffish just because they are running low on self-confidence. When you are more outgoing, it can help you win favor during meetings and presentations. Your boss will take note of that smiling go-getter.
Whether you are looking for a new job or seeking a promotion, your personal appearance and confidence matters. Whiter teeth can lead to a smile you feel great about showing, and people who want a winning employee on their team will remember it.
About the Practice
Dr. Higginbottom, Dr. Derksen, and Dr. Hildebrand are ready to brighten your smile and address all your dental needs at Dallas Esthetics. They offer state-of-the-art technology while prioritizing patient comfort and customer service. For more information on teeth whitening methods, general dentistry questions, or to schedule an appointment, visit our website or call (214) 827-1150.