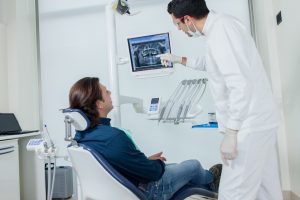 We ask for second opinions on an almost daily basis before making decisions that will cost us relatively little time or money. For instance, have you ever asked friends or family for their opinion before trying a new restaurant? How about reading online reviews before going to see a movie? Asking your spouse and your best friends for their opinion of an outfit? These are all occasions where we seek out multiple opinions without ever thinking about it. Unfortunately, many people don't ever think to question the dental or medical professionals in their lives by seeking second opinions before beginning a complex treatment. In some cases, taking the time to schedule a second opinion consultation can save you time, money, and discomfort.

Do I Need a Second Opinion?
It's important to understand that dentists all receive essentially the same basic dental training, but they also have the ability to continue their education by studying specific treatments or practice philosophies that interest them most. That means that two different doctors may offer completely different treatment options even if the goal is relatively similar. The main thing to keep in mind is how these varying treatment plans will affect you, your schedule, your budget, and your smile. Getting a second opinion before beginning any complex dentistry plan is always a good idea. Some of the situations where a second opinion may be most beneficial include:
If you feel like you need a second opinion before beginning a recommended dental care plan – you need one. You should always feel 100% confident before moving forward with dentistry services.
Following a major diagnosis of oral cancer, you may want to seek a second opinion before beginning treatment.
You feel your dentist has previously provided dental treatments that did not actually address the concerns you expressed.
You don't feel 100% sure that the recommended treatments are actually necessary or that the estimated costs are average and fair.
If you are not sure your general dentist is qualified to provide treatment, you may want to seek a second opinion for a specialist like an oral surgeon.
What Happens During a Second Opinion Visit?
The first step is to find a dentist who will offer a second opinion. Many local dentists advertise their services in providing second opinions. Many dentists and dental specialty practices offer free second opinion consultations. You can check online, ask friends, family members, and coworkers for recommendations, or even talk to your current dentist about second opinions. If you have a good relationship with your dentist, they should be willing to help you find another general dentist or specialty practice where you can receive a second opinion. Dentists want their patients to be happy with the treatments and service they receive and should have no problem with their patients seeking outside opinions.
Meet the Dallas Esthetics Team
At Dallas Esthetics, our dentists and team offer a wide range of dentistry services from the most basic dental checkups and teeth cleanings to the most complex dental implant supported tooth replacement full mouth reconstruction plans. With a team of skilled professionals on site, we are happy to offer second opinions for patients in the DFW Metroplex who just aren't sure about the treatments recommended by their dentists. If you want to weigh your options before moving forward with any dental care plan, please feel free to call our friendly dental team to schedule an appointment in our state-of-the-art Dallas dentistry practice today. We look forward to partnering with you to review your dental care options and help you make an informed decision about treatment.