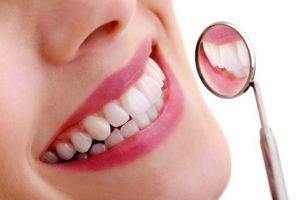 While you focus on your oral health, your priority is often your teeth, which is why you brush twice a day. However, the health of your gums is equally as important. Unfortunately, the Centers for Disease Control and Prevention has released new information about an increasing threat to the soft tissue. Now, it is estimated that half of adults in America suffer from periodontal disease (gum disease). This infection can wreak havoc on your oral and overall health. To treat it, you will need the help of your prosthodontist in Highland Park.

Gum Disease in America
According to the Centers for Disease Control and Prevention, it is estimated that one out of every two adults in the U.S. over the age of 30 has a form of the infection. The results of the study found that over 64 million American adults have mild to severe periodontitis while over 70% of those over the age of 65 have a more advanced form of the disease.
When left untreated, the chronic inflammation can deteriorate the gum tissue and bone that supports the teeth. Over time, it can lead to tooth loss. However, the bacteria responsible for the infection can enter the bloodstream, causing serious health complications, like cardiovascular disease.
The high rate of the infection is often attributed to poor dental hygiene and infrequent dental cleanings to remove plaque and tartar accumulations from the gum line. If it develops, your prosthodontist will create a customized treatment plan to restore your gum health.
Treating Gum Disease
When the infection is detected, treatment often involves a deep cleaning procedure, also known as scaling and root planing. This uses special dental tools to clean below the gum line to remove plaque, tartar, and bacteria accumulations. The root surfaces of the teeth are then smoothed to help reduce the risk for future buildup.
In some cases, the use of medications may be needed. This can include the use of an oral antibiotic, antimicrobial mouthrinses, or enzyme suppressants.
If deep pockets have formed in the gum tissue or recession of the gum line has occurred, laser therapy may be needed. This targets the infected tissue to stop the spread of the infection while encouraging new tissue growth.
Restore Your Oral Health Today
With the complications of untreated gum disease quite severe, it is important to be proactive about your oral hygiene habits to prevent the infection. In addition to your home care, it is best to see your dentist at least twice a year for a cleaning and checkup. During the appointment, the infection can be detected in the early stages to prevent irreversible damage with a customized treatment plan.
About Dr. Frank L. Higginbottom
Dr. Frank L. Higginbottom has been creating healthy, beautiful smiles for more than 44 years. Due to his advanced training and reputation as a skilled dentist, he is a trusted provider for high quality dental services. If you have gum disease, contact Dallas Esthetics today to discuss your treatment options.