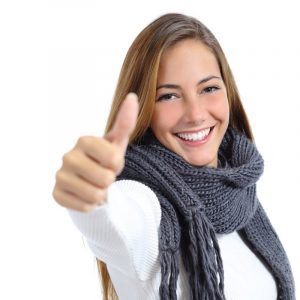 Everyone has that family member that adores holiday pictures with the family. In fact, they keep them on the wall all year long.
Are you sick and tired of hiding your smile when your family takes photos together? The times that the photographer was able to coax a smile out of you, you became completely embarrassed by your flawed teeth.
If you're ready to smile with confidence this year, you might just be the perfect candidate for porcelain veneers in Preston Hollow.
Learn if Porcelain Veneers are Right for You
How can porcelain veneers help me?
Have you seen a celebrity's smile that you can't stop obsessing over? They have the perfect white, straight teeth. The secret to their gorgeous smile could be that they have porcelain veneers!
Porcelain veneers are thin sheets of high-quality dental materials. A bit of your tooth enamel is shaved down to permanently fit them over your teeth, masking your most unwanted flaws.
If you have any doubts about what your smile has to offer, ask your local cosmetic dentist in Park Cities how porcelain veneers can help you cover these flaws:
Chips in your teeth
Discolored, stained teeth
Misaligned or crooked teeth
Cracks in your teeth
Spaced teeth
Eroded teeth
Unusually shaped teeth
What do I need to know about porcelain veneers?
Many patients may avoid dental work and treatments because they don't want to end up stuck with loads of maintenance. It's simple to take care of your veneers with these easy steps:
Brushing and flossing every day.
Avoiding biting into hard objects (i.e. nuts, tearing into packages, or ice).
Eating and drinking dark substances in moderation to avoid staining (i.e. wine, coffee, and red pasta sauces).
If following these maintenance tips are too much for you to consistently do, then porcelain veneers may not be the best cosmetic option for you.
Who might not be a suitable candidate for porcelain veneers?
You must take into account your current oral health when considering any cosmetic dentistry—especially veneers. There are a few aspects of a patient's oral health that could make them a less than likely candidate for veneers. If you're considering getting veneers, ask yourself:
Do I have good periodontal health?
Am I committed to proper oral hygiene?
What are my smile goals?
How will I explain them to my dentist?
It's always best to prepare for your cosmetic consultation by asking yourself these simple questions. You can also ask your cosmetic dentist in Preston Hollow their opinion during your appointment with them. They may have a more suited option for you to achieve a smile you can't stop showing off.
---
About Our Office
Here at Dallas Esthetics, we care about your oral health just as much as your smile's beauty. Our team works to reach your optimal dental health so that you can receive the cosmetic treatments you want. If you have questions about how you can meet top oral health expectations and esthetics, feel free to call out office.