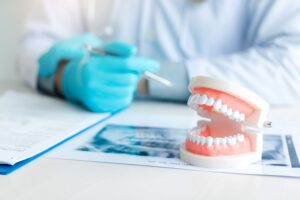 If you have missing teeth, you're probably considering dentures as a solution to restore your smile. They're an effective method that allows you to eat and speak more normally after suffering tooth loss. Many new patients have questions about the process of getting fitted for them, and how long it takes. Keep reading to learn more about what to expect once you get started!
Step #1: Oral Exam
The first step in the process is a thorough examination by your dentist to ensure that you're a good candidate for dentures. They rest on your gums which means yours need to be healthy enough to be able to support them. Unfortunately, when we lose teeth, our body reabsorbs the surrounding bone mass that's no longer needed. This weakens the jaw, and it begins to deteriorate, leaving your mouth without the strength required to house your dentures.
Also, if your dentist finds signs of gum disease or tooth decay, they'll need to treat this first before proceeding with other dental work.
Because everyone's situation is unique, it's challenging to pin down a specific timeframe for this step. Once you know of any additional work that needs to be done, your dentist can give you an idea of how long it will take.
Step #2: Extraction and Healing
It's necessary in many cases to remove certain teeth, like wisdom teeth and molars, for your dentures to fit well. If this is part of your treatment plan, you can add an additional 6-8 weeks to your timeline for recovery. This should give the extraction site enough time to heal so your dentist can have you fitted for dentures.
Step #3: Making the Mold
Once you've healed from any treatments that may have been necessary, it's safe for your dentist to call you back to get impressions of your teeth. They will do this one of two ways:
Traditional method. The standard way to make molds of your teeth consists of biting into an arch tray that's filled with a putty-like material. Over a few minutes, it hardens around your teeth and captures their shape. This is then sent to a lab for your customized dentures to be created.
Digital scanning. If they have the equipment for it, it's possible for your dentist to take virtual scans of your pearly whites which are then sent to a lab to build your dentures.
Step #4: Trying Them On
It takes a while for the lab to develop your dentures, which are then sent back so that you can try them on. Your dentist needs to ensure they're fitting correctly, and you'll want to see what they look like and if any adjustments are necessary.
Your dentist then sends these back to the lab to be finalized. If there were any errors to fix or changes that needed to be made, the lab will complete those during this step. All told, this process could take anywhere from 6 weeks to 3 months. You might be given a set of temporary dentures to wear in the meantime while you wait.
If you are considering dentures, keep in mind that the entire process can take months to complete. Don't waste any more time! Call your dentist today and get started, and soon you'll be able to show off your full smile once again.
About the Practice
At Dallas Esthetics, our dentists provide a range of popular and effective dental services including full and partial dentures. With a comfortable, modern office equipped with some of the most advanced dental technology, you know you're getting the best care possible. If you'd like to schedule a consultation, you're welcome to request an appointment on our website or by calling (214) 827-1150.