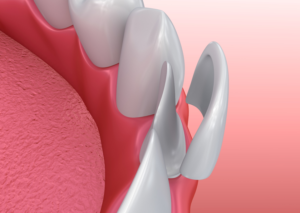 Are you insecure about stained, chipped, or gapped teeth? Veneers can create the smile of your dreams quickly. You can save time and money by correcting multiple issues at once using a method that can last for a decade or longer with the right care. Here's how you can get the most out of your investment.
How Veneers Work
A veneer differs from a crown because it only covers the front side of a tooth, so it's less invasive. It enhances the overall color, size, and shape of a tooth. However, when bonded to the teeth visible when smiling, veneers can cover several imperfections, like discoloration, chips, and gaps between teeth.
Promoting the Lifespan of Veneers
Veneers are meant to serve as a long-term solution, but they will need to be replaced, eventually. The average lifespan of a veneer is about 10 years, but it's not unusual for them to last for much longer with the right maintenance, which includes:
Choosing the Right Oral Hygiene Products
Veneers are durable, but they aren't indestructible. Abrasive dental products can scratch them, tarnishing their appearance. Bacteria can get trapped in the small crevasses, shortening their lifespan. It's best to use a soft-bristled toothbrush and nonabrasive toothpaste when brushing your teeth.
Committing to Your Oral Hygiene At Home
Veneers can't get cavities, but your teeth are still vulnerable to decay. Brush your teeth at least twice daily for 2 minutes. Use high-quality floss to clean between each tooth every day. You'll keep your teeth and gums healthy to preserve your natural smile to ensure your veneers thrive for years.
Watching What You Eat
Your dentist will recommend limiting how often you have sugary foods and drinks to keep tooth decay at bay. It is also a good idea to avoid any stain-causing foods and beverages, like coffee or blueberries. Although porcelain is stain-resistant, your teeth can still discolor, which can show through your veneers. It's also good to moderate your alcohol consumption because it can weaken the bonding materials holding your veneers to your teeth. Your cosmetic dentist will also suggest skipping hard or sticky foods to prevent damaging your veneers.
Breaking Bad Oral Habits
Don't use your teeth in place of tools or scissors, like to open a bag of chips or loosen a bottle cap. Keep inedible objects out of your mouth to prevent chipping or cracking your veneers, like your fingernails or pencils.
Visiting Your Dentist Regularly
Besides caring for your smile at home, visit your dentist every 6 months for a cleaning and checkup. They'll keep your mouth healthy and safeguard your beautiful smile to get the most from your veneers.
About Dr. Frank Higginbottom
Dr. Higginbottom earned his dental degree at the Baylor College of Dentistry and joined the United States Army. After his time in the military, he has regularly continued his education to provide the most advanced services, like dental implants and cosmetic dentistry. If you are ready to achieve the confident, stunning smile you desire, contact our office today to request your consultation.