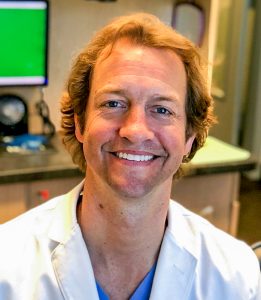 Meet Sloan W. Hildebrand, DDS, MS. He is a skilled prosthodontist and a proud member of a family of dentists who truly care about their patients. Dr. Hildebrand's father, Dr. David C. Hildebrand offered his patients gentle, compassionate, quality care with the philosophy that, "positive expectations breed positive results." With that concept always in mind, Dr. Hildebrand has continued his father's legacy of quality dental services with a gentle, caring touch. He is excited about joining the prosthodontic practice at Dallas Esthetics. When he's not hard at work creating beautiful smiles, you'll probably find Dr. Hildebrand spending time with his wife Elizabeth, and their two children, Isla and Scout. Dr. Hildebrand also enjoys exploring the outdoors, and he loves dirt biking, hiking, snowboarding, swimming, soccer, tennis, pretty much anything active and outdoors. He has even competed in triathlons, marathons, and other athletic challenges.

Dr. Hildebrand's Training
Dr. Hildebrand completed doctoral work in dentistry at The University of Texas in 2000, and he went on to earn his masters degree in prosthodontics at the Baylor College of Dentistry. He studied alongside Dr. Richard Derksen, and Dr. Frank L. Higginbottom was one of their skilled instructors. Dr. Hildebrand looks forward to working alongside these two cherished friends who also happen to be respected colleagues. In 2017, Dr. Hildebrand merged the private practice he shared with his father with the Dallas Esthetics team in order to continue providing the highest quality care for his patients.
Giving Back to Communities in Need
Dr. Hildebrand and his family and friends regularly volunteer their time to help those who need dental care in some of the remotest areas around the globe. He and two friends, Dr. Damien Mulvany and Dr. Paul Tamburello started their "One Last Trip" missions as a farewell trip following college graduation. The first trip was to serve patients in remote areas of Senegal. Since then, these three musketeers have visited Ethiopia, Kenya, Haiti, Myanmar, Cambodia, and most recently, Nicaragua. On this latest trip, Dr. Hildebrand was happy to be accompanied by his wife, two children, and his mother. As a child, he and his siblings and mother accompanied Dr. David Hildebrand volunteering at local Dallas area shelters and participating in global missions. Dr. Hildebrand is proud to continue this tradition of giving with his family. The One Last Trip tradition doesn't stop here. Dr. Hildebrand is hoping to provide dental services in the Cardamom Mountains between Cambodia and Thailand for his next mission. Technology and dirt biking have allowed Dr. Hildebrand, Dr. Tamburello, and Mulvany to reach patients in the remotest locations, and this virtually untouched part of the Cardamom Mountain range is an apt locale for One More Trip!
Meet the Dallas Esthetics Team
If you're looking for a team of dentistry professionals to offer basic preventive dentistry and the most advanced restorative dental care, look no further than Dallas Esthetics. Dr. Hildebrand, Dr. Higginbottom, Dr. Derksen, and the entire team are dedicated to helping every patient achieve and maintain his or her healthiest smile for life. If you want to learn more or schedule an appointment with us, please don't hesitate to call our team today. We look forward to seeing you soon.