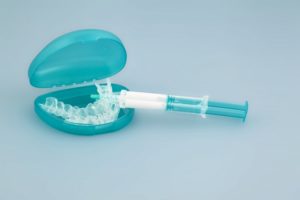 These days, it seems like you can't scroll through social media for five minutes without seeing someone post about a teeth whitening solution that they found at a drugstore, ordered online, or even made themselves. Influencers might swear up and down that these toothpastes, mouthwashes, and strips are effective at removing tooth stains. But do these over-the-counter teeth whitening products actually work? Keep reading to find out!
The Growing Popularity of Teeth Whitening Products
Teeth whitening products have become increasingly popular in recent years, and it's not hard to see why. The rise of social media and work-from-home video calls have made people more conscious of their appearances, which includes the shade of their teeth. Tooth discoloration is quite common and can occur for many reasons, such as smoking or a chronic coffee habit. In fact, teeth naturally darken as you get older because the white outer layer (enamel) wears away, exposing more of the yellowish layer (dentin) underneath it. Consciously or not, we associate lighter teeth with youth. With that in mind, it's no wonder the teeth whitening business is booming!
Should You Use Over-the-Counter Teeth Whitening Products?
If you walk down the oral care aisle of your local drugstore, chances are you can find dozens of kits, toothpastes, gels, and other products that promise a brighter smile. However, most of these solutions are neither effective nor safe.
At best, they might remove superficial stains from the very top of your enamel, creating short-lived and barely noticeable results. At worst, the chemicals they use can erode your enamel. Using them incorrectly or too often can wear down enamel to the point where more dentin is revealed. This causes teeth to take on a yellower appearance, which is the opposite of the results you wanted!
Additionally, many store-bought teeth whiteners are not exposed to your teeth long enough to produce significant results. Bleaching agents must remain in contact with the teeth for at least 20 minutes in order to noticeably alter the color. For that reason, whitening toothpastes are simply incapable of creating dramatic changes.
Why It's Best to Leave Teeth Whitening to the Pros
If you're looking for a safe way to achieve a bright smile and boost your confidence, then your best bet is to ask your dentist about professional teeth whitening. Dentists use whitening solutions with a higher concentration of bleaching chemicals, removing years' worth of stubborn stains more quickly. They also take your unique health and concerns into account to customize a solution that meets your needs. For example, you can lighten your teeth by up to 10 shades in a single appointment with in-office teeth whitening, or achieve the same results comfortably at home with a take-home whitening kit.
Over-the-counter teeth whitening products might seem convenient and affordable, but in most cases, they're just not worth it. If you really want to feel confident about your pearly whites again, you're better off investing in professional teeth whitening. Ask your cosmetic dentist today about how they can help!
About the Authors
Dr. Frank Higginbottom, Dr. Sloan Hildebrand, and Dr. Richard Derksen combine state-of-the-art dental technology with compassion and gentleness to provide their patients at Dallas Esthetics with the highest quality of care possible. They offer both in-office and take-home teeth whitening solutions to safely deliver brighter smiles. To learn more, visit their website or call their office at 214-827-1150.