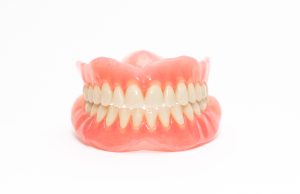 When you were first fitted with your new dentures in Park Cities, you were excited to finally have a restored smile and the full function of your teeth. But as time has gone along, you've noticed some unfavorable changes that are causing them to fit poorly. You wonder, "Can anything be done about this?" Your local dentist says there certainly are ways to address this problem. Read on to learn what they are and discover ways to better maintain your dentures.
Causes of Poorly Fitting Dentures
Here are some of the reasons that your dentures aren't fitting correctly:
Gum lines changing shape – Over time, your gum lines can shift and change shape just like the foundation under your house. This can cause your dentures to become loose or ill-fitting. Your dentist may choose to reline, rebase or remake your prosthetics as a remedy.
Broken or damaged dentures – The daily wear and tear that your dentures endure can lead to them breaking. It is important to remember that over-the-counter glues cannot be used to fix them, as they are toxic. Therefore, if your dentures break, contact your dentist immediately so they can be properly repaired.
Failed implant-retained dentures – In some cases, implant-retained dentures can fail over time. This may cause the teeth to loosen from the base and supporting screws and become unsteady. Your dentist will need to examine your prosthetics and implants to determine the cause of the problem and the best course of action.
How Can Your Dentist Repair Dentures?
Relining – Denture relining is a simple and affordable procedure that reshapes the underside of a denture to make it more comfortable as it rests against your gums.
Rebasing – A rebase is the procedure for replacing most or all of the denture base material on an existing prosthesis.
Remaking – If the damage is too substantial to your dentures in University Park, then your dentist may remake the entire set.
Best Practices to Maintain Your Dentures
Here are some of the daily practices to keep in mind to ensure the longevity of your dentures and prevent them from becoming misshaped:
Remove your dentures once a day to clean them.
After removing them, rinse in cool, clean water.
Next, use a soft-bristled toothbrush to gently agitate any leftover debris.
Finally, place them in a denture cleaning solution.
By incorporating these methods to maintain your dentures, monitoring their condition and alerting your dentist of any signs of damage, you can be sure to enjoy a healthy and beautiful smile for years to come.
To schedule a consultation to get more information about dentures, just reach out to your dentist today!
About the Author
Dr. Frank L. Higginbottom has been creating beautiful smiles for nearly 50 years. He earned his Doctor of Dental Surgery degree from Baylor College of Dentistry in 1971 and remains just as passionate about dentistry today as he did back then. Dr. Higginbottom teaches and inspires future dentists through his position of Associate Clinical Professor in the Departments of Oral Surgery and Graduate Prosthodontics at his alma mater. He practices at Dallas Esthetics and can be reached for more information through his website.