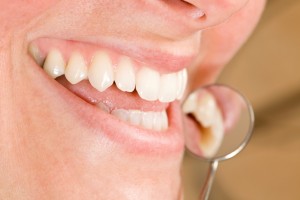 Most adults have at least one dental restoration in their mouths. Whether you have veneers, a crown, dental implants, or inlays/onlays, staying on top of your oral hygiene habits will help you keep your dental work intact to avoid do-over dentistry. Your Dallas prosthodontist has six pearls of wisdom for keeping those pearly whites healthy for years to come!
#1: Checkups and Cleanings
After you have a tooth restored, it is as important as ever that you stay on top of your regular preventive care with a checkup and cleaning every six months. We will take X-rays regularly to identify and fix any issues with the restoration as soon as they develop. Routine cleanings will also prevent gum disease and decay in the surrounding teeth.
#2: Fluoride
The benefits of fluoride for oral health are well documented. Brushing your teeth with a toothpaste that contains the mineral strengthens the tooth enamel to keep cavities and infection at bay. Not sure if your toothpaste has fluoride? Look for a toothpaste that has been approved by the American Dental Association, as fluoride is a prerequisite for their stamp of approval.
#3: Flossing
After you brush your teeth for two minutes every night, make sure you are flossing between them, too. Dental floss is a crucial part of good oral health and hygiene, as it reaches into the spaces you just can't get to with a toothbrush. Take care when you clean around your restoration, gently working the floss up, down, and around a veneer or crown. Concentrate on the area at the base of the dental work to prevent plaque and tartar buildup. Ask your dentist for specific tips on flossing around your restoration if you have trouble effectively cleaning it.
#4: Mouthrinse
Adding an antimicrobial mouthrinse is a good way to kill more bacteria and keep your breath fresher and your restoration healthier. Mouthrinses come in a variety of formulas — your prosthodontist can recommend a solution that will serve your smile best. Remember that swishing with a mouth wash is a good supplement to regular brushing and flossing, but it should never replace these two primary habits.
#5: Follow Instructions
Your prosthodontist may have specific instructions for keeping your restoration healthy and strong. Need to use a special tool to clean around dental implants? Make sure you follow any steps from your prosthodontist — any special instructions we share are absolutely necessary for your oral health and wellness!
#6: Wear a Nightguard
If you grind your teeth or clench your jaw at night, you should consider investing in a custom-fitted nightguard to protect your restoration from excessive force and pressure from bruxism.
Bonus Tips
For continued oral and overall health and wellbeing, don't smoke and make sure you maintain a balanced, low-sugar diet!
Schedule an Appointment Today!
And back to point #1, when was your last checkup and cleaning with your dentist? In addition to providing wonderful restorative dentistry, we are pleased to offer our patients general and preventive care. If it's been longer than six months since you last visited us, don't wait any longer. Contact us to schedule an appointment today!