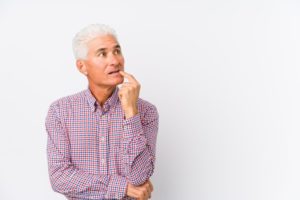 A bright white smile is a goal for most people, but sometimes there are obstacles in the way. No matter how much they brush and floss, some people struggle with naturally gray teeth. Others may notice their teeth slowly turning gray over time. In some cases, only one tooth goes gray. Keep reading to learn from your cosmetic dentist in Dallas about potential causes for this and dental treatments that can help.
What Are Possible Reasons for Gray Teeth?
Teeth turn gray from natural causes, but oftentimes the change is induced:
Dentinogenesis Imperfecta: This rare, hereditary disorder can make baby or permanent teeth appear bluish-gray. It also weakens them and makes the teeth more prone to breakage.
Root Canal Medications: The active ingredients in Ledermix, a paste used during the root canal process, can turn teeth grayish-brown. Another root canal medication, Ultracal XS, has the same effect to a lesser degree.
Tooth Trauma: If blood flow is cut off to a tooth, it can die and turn gray. It may also develop gray stains from trauma. This change could take months or years. Tooth decay can also cut off blood flow to cause the change in this manner.
Tetracycline: This antibiotic is the most probable cause if a child under eight years old develops gray teeth. Also, if the mother took it during pregnancy, it could affect the child's teeth.
Aging: Simply because of getting older, your teeth may turn grayish-blue.
Dental Restorations: Materials like metal crowns and silver fillings used to restore teeth or fill cavities can sometimes cause discoloration.
What Are Treatment Options?
Fortunately, there are several potential treatments for gray teeth. Some you can try on your own and others are possible with the help of your dentist.
Brush with whitening toothpaste
Brush with baking soda or another natural tooth whitener
Use a take-home whitening kit prepared by your dentist
Try in-office professional teeth whitening
Consider getting porcelain veneers
Certainly, some of these are simple changes to make and others are significant decisions. The best course of action is, once you identify that your teeth are turning gray, consult with your dentist in Dallas to determine your most effective approach. It's important to know that you don't have to live with gray teeth, and you have different options to potentially be the solution!
About the Practice
Dr. Higginbottom, Dr. Derksen, and Dr. Hildebrand are ready to brighten your smile and address all your dental needs at Dallas Esthetics. Our dentists offer state-of-the-art technology while prioritizing patient comfort and customer service. If you have gray teeth, from in-office professional teeth whitening to an at-home whitening kit to porcelain veneers, they have ways to help you transform your smile into a gleaming shade of white. To get started, schedule a cosmetic consultation on our website or by calling (214) 827-1150.