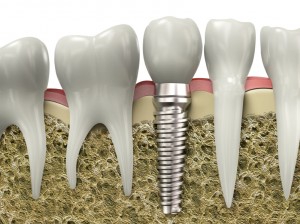 Advancements in dentistry now allow for multiple options when it comes to treating tooth loss. Many choose dentures because they are affordable and convenient, causing them to fail to even consider dental implants. But, did you know dental implants offer unsurpassed benefits when compared to dentures? Implants not only replace your missing teeth, but offer a lifelong solution. In addition, you'll have improved oral health and even stop the damage caused from tooth loss. As your dentist in Dallas, we have the facts you need to know about dental implants.

Dental Implants in Dallas
Dental implants are the best option to replace missing teeth. Yes, implants are more expensive and do require surgery, but they offer a long-term investment in your smile, oral health, and quality of life. Plus, they are the only form of prosthetics that most closely mimic your own natural teeth—both in terms of function and appearance.
To benefit from dental implants, we will insert a bio-compatible titanium post into the jawbone. The implanted post will act as a new tooth root. Since the post is made from titanium, it offers unsurpassed durability, and the body naturally accepts it for a secure bond. Then, we use an abutment to hold a custom-made crown in place. The crown will replace your missing tooth, offering a natural-looking and functioning tooth replacement.
While the appearance and convenience factors may seem like the ideal benefits from implants, the benefits actually extend far beyond their outward appearance. When you lose even one tooth, your bone structures begin to deteriorate. As a result, your remaining teeth will begin to shift and eventually fall out. As more and more bone is lost, your facial structures will begin to change. Dentures can't stop bone loss, but implants can. Not only will implants stop the bone loss from missing teeth, but actually stimulate new bone growth to help reverse any damage that has occurred. With your remaining teeth having the support they need to stay firmly in place, you'll prevent any additional oral complications related to tooth loss.
Dental implants will improve your quality of life and confidence in ways that aren't possible with dentures. For example, implants have an increased biting force by as much as 70 percent when compared to dentures, so there will be no eating restrictions. Plus, caring for your implants is easier because they remain secured in your mouth permanently. So, there's no need for adhesives or cleaning solutions.
Benefit from Dental Implants
Overall, dental implants are the best option to replace missing teeth. As a prosthodontist in Dallas, we offer numerous forms of dental implants to treat your unique case of tooth loss. We'll work hard to create a custom smile that looks natural, while protecting your oral health from additional damage.
If you're in need of dental implants in Dallas, call our office today at (214) 761-8312 to schedule a consultation to see if you're a candidate. We'll give you the state-of-the-art personalized smile you want, while permanently treating your tooth loss with dental implants.